Let me share a journey with you. A wonderful journey that I've been blessed to be privy to: the Sojourn of a new Tsou, the Crossing of Corrine.

For many years, my sister talked of adopting a baby from China. She felt that this was something she needed to do. After eighteen months of seemingly en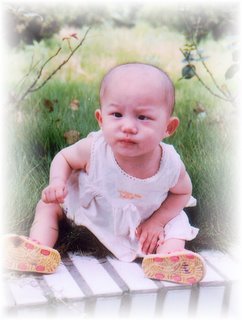 dless paperwork, a photo arrived of our angel.
How tiny and thin she was. How could this wee whisp be a year old? But already, she was pulling at my heart. Julie and Marc made plans to take their two children to China with them to bring Corrine home sometime in January 2005.
Marc's parents were planning on going to help with the children. But because of an unfortunate twist (father injured his knee), I was invited to come along on the trip to China – at no cost to myself. How could I possibly say no to such a gift? So, on Martin Luther King Day 2005, I flew halfway around the world to find a slice of sunshine.
What a day that was! A room filled with 17 families, 17 nannies from the orphanage, and 17 babies who had never seen a white person before. Boy! Did they scream! I cried too – because I felt like I was the only one who realized how terrified these babies were. All the babies. Except for our Corrine.
No tears did she shed. Julie and I wanted to believe this was because we were Uber-mommies. I'm sure part of that is true. But it is also true that Corrine was extremely malnourished. The first few days she had trouble drinking from a bottle. She developed a fever on the second day that Dr. Julie (who gets higher medical billing then her husband, who really IS a doctor) instructed me to give her Tyle
nol. Corrine eagerly drank the medicine from the eyedropper; which led me to the discovery of feeding her formula from an eyedropper.
She wanted her Mommy or her Auntie all the time. She tolerated Daddy, sister, and brother. I had the extreme privilege of putting her to sleep each night – singing Moonshadow, Fiji Rose (fraternity pin song), and I'm Bringing Home a Baby Bumble Bee.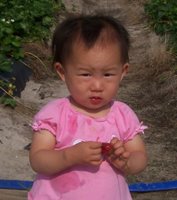 She came home to America and blossomed. Picking strawberries, going to pre-preschoo
l, playing with her Mommy and Daddy, her brother and sister. I eagerly awaited the pictures, and longed for the day I could go visit them in Virginia.
That day finally arrived last week. I was so excited and nervous to see her. My sister Julie is really the Uber-Mommy. Her children (when very young) do not like to be away from her. So how would Corrine react to me? Would there still be some bond? I hoped and prayed that this would be.
I'm happy to say that the bond was still there. I truly believe that she "knew" me deep down – I got giggles, smiles, and games from her everyday. And she is so smart! I taught her how to play GoFish and Old Maid. – and yes, she doesn't even turn three until November.
I love all my nieces and nephews – none more or less then the others. But I feel an incredible bond with Corrine – mostly due to the fact that I was blessed to be there on the day she was "born" into our family.
I love you, my little punkin pie. I love you so very much.
Auntie Jayne